API steel pipe is
welded steel pipe
which makes strip steel coil into circular tubular by high frequency welding machine and certain specifications welding with advanced welding technology. When people weld API pipes, its shape can be square, aliens or round. Also it can choose steel tubes which depends on the sizing rolling after welding. The welding technology of API pipes is simple. But we can guarantee that it can exert the important role and value in use through appropriate production and processing technology. API steel pipe production needs a higher level of technology and requirements.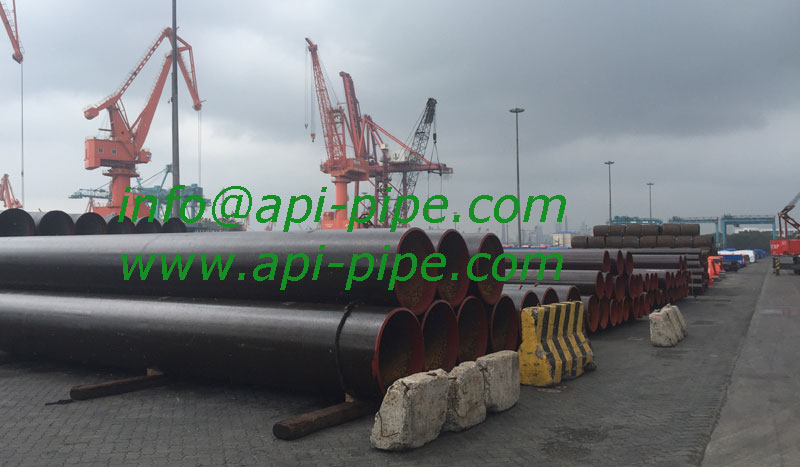 Hot rolling process is the main producing ways of API steel pipe accounting for 80% of the seamless API pipes production. The welded steel pipe is also available. Besides the technology level of the factory itself, to some extent, the variety and quality of the production unit level will be restricted by the smelting and continuous casting. So the advanced smelting process is to complete pipe processing. The international well-known API enterprises are mostly professional steel pipe or tube companies which are integrated iron and steel enterprises. Using the international advanced API steel pipe production technology and processes: arc furnace or a converter smelting-LF refining outside the furnace-VD vacuum processing-full protection of pouring a tube-continuous casting round billet machine processing.
The above technology and processes can produce oil special pie, high pressure boiler tube and low alloy pipe etc. For smelting equipment, electric arc furnace or the converter capacity should not be less than 70t. In order to create conditions for refining, we should pay more attention to the online detection method of continuous and automatic control system which is equipped with advanced inspection system. The location for oil pipeline and high pressure boiler tube production line should be equipped with a high level of heat treatment and machining system.
API steel pipe in steel industry has stable proportion of 42% in recent years. And the welded steel pipe has a rising trend in oil and natural gas projects. API welded steel pipe is the reliability of the materials and their variety adaptability is strong, especially, adapt to the thick wall and the production of alloy steel. Because, the API seamless pipe with high investment, high cost, complicated manufacturing process, wall thickness and heat tolerance is falling down in the oil and petroleum industry. The welded steel pipe is actually the deep processing product of sheet. With conditions of the similar price, API welded steel pipe is more popular in the market. With the improvement of quality of steel plate and the raising of the level of welded pipe technology, API pipes begin to occupy the market share. However, market is completely replaced by welded steel pipes, which need a period of time.